'living with an art collection'
The renovation of a house in a historical district of Bucharest, from the late 1930s, involved Studio3plus into an architectural strategy focused on urban and architectural details. The beneficiary, a family open to art, accepted a design of interweaving the architectural image of the house with the presence of his own collection of art objects.
Plans of all levels have undergone a series of transformations: adjustments of unstructured walls, doors repositioning, finishes replacement. The ground floor initially provided two entrances; eliminating the one closest to the street allowed the living room to be enlarged. The two bedrooms upstairs have been refurbished, obtaining a single bedroom and a studio room. The previously garret has undergone the most changes, hosting a large bedroom with its own bathroom and dressing room. The existing wooden frame was replaced with a steel structure, left visible inside and painted white.
The restoration of the interior staircase involved the adjustment of the unstructured wall from the building that originally housed the kitchen on the ground floor. The metal in the form of a sheet full of steel folds in space both on the steps and on the interior railing, offering here also the solution for reducing the constructive mass and the perception of the slenderness of the architectural elements. The light shell that accompanies the wood-clad surface of the steps dematerializes, even more, accentuating the vertical spacewalk of the house, towards the attic. The detachment of the staircase from the floor of the vestibule draws attention to the continuity of its finish under the steps which, thanks to the folded steel surface that make them up, seem unlikely to float above the ceramic plywood with geometric pattern in black and white.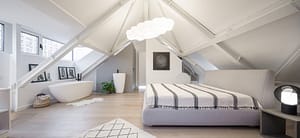 The master bedroom is now the most spectacular room in the house. The bathtub and the sink have become sculptural objects, bathed by the sunlight of the extended skylight. The cloud-shaped luminaire emphasizes the special character of the room against the background of the streamlined but very delicate rectangular structure, which fully supports the roof. The walls and ceilings of the attic and the floor are unified under the white paint, so as to highlight the lightly tinted wooden surfaces of the floors or the furniture, such as the office library. White obviously becomes the background for the proper perception of modern art objects, but also for other pieces of furniture with a sculptural look and brightly coloured surfaces for punctual visual accents. Bright yellow reappears on the kitchen furniture, accompanied by a red accent on the two high bar stools. The interior design merges with the image of the artworks in the family collection. A precious atmosphere, with modernist accents, emerges from the assembly of surfaces, materials and colours, distancing itself from the modest character of social housing.
Client

TODO

Design

Studio3Plus

Floor area

TODO

Photography

Radu Malașincu

Construction

TODO